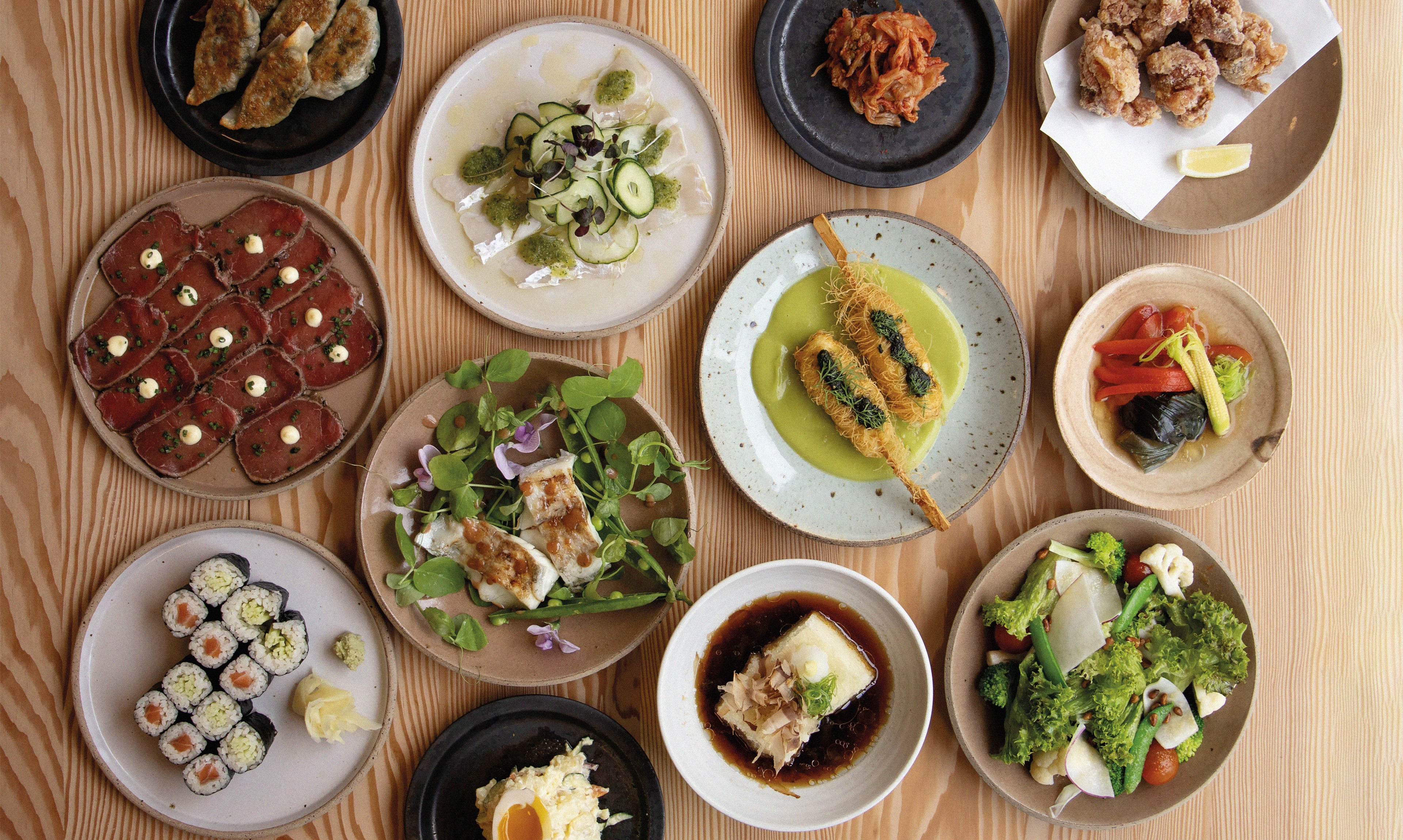 Posh Jah is the mature and sophisticated sister restaurant to the Jah family located in the old center of Copenhagen.
Our focus is on the more traditional Japanese cuisine such as sushi, sashimi og tempura. We use local ingredients from organic and biodynamic farms and the freshest most pristine seafood. Alongside our seasonal menu we serve our Jah Beer, the finest saké and natural wine.
MENU
All dishes are served when ready with no particular order.We recommend three to five dishes per person. For information on allergies please talk our staff.
COLD
Sashimi (Todays selection)

250 kr.

The chef's choice of fish (ask staff for details).

3 kinds (ask staff for details).

Maki Sushi (3 kinds / 6 pieces)

- Spanish blue fin tuna

120 kr.

- Today's Veggie (ask staff for details)

90 kr.

(ask staff for details).

Crispy green salad.

Konbujime

- Veggies with fig leave oil

100 kr.

- Halibut with ponzu and fermented mushrooms

125 kr.

Japanese style raw organic beef Carpaccio with yuzu ponzu and Japanese mayo.

Tsukemono (4 kinds)

80 kr.

Traditional pickled veggies according to season.
HOT
Aged and grilled Danish squid.

Croquettes with rice, mushrooms and langoustine broth.

Fried tofu with our own dashi.

Wrapped mushrooms and shiokoji Halibut.

(ask staff for details).
SET MENUES
OMAKASE TASTING MENU

450 kr.

Chef's tasting menu. Also available vegan or pescetarian. Should be ordered for a minimum of 2 persons. Price is per person.

Try three different sakes. Perfect for the menues.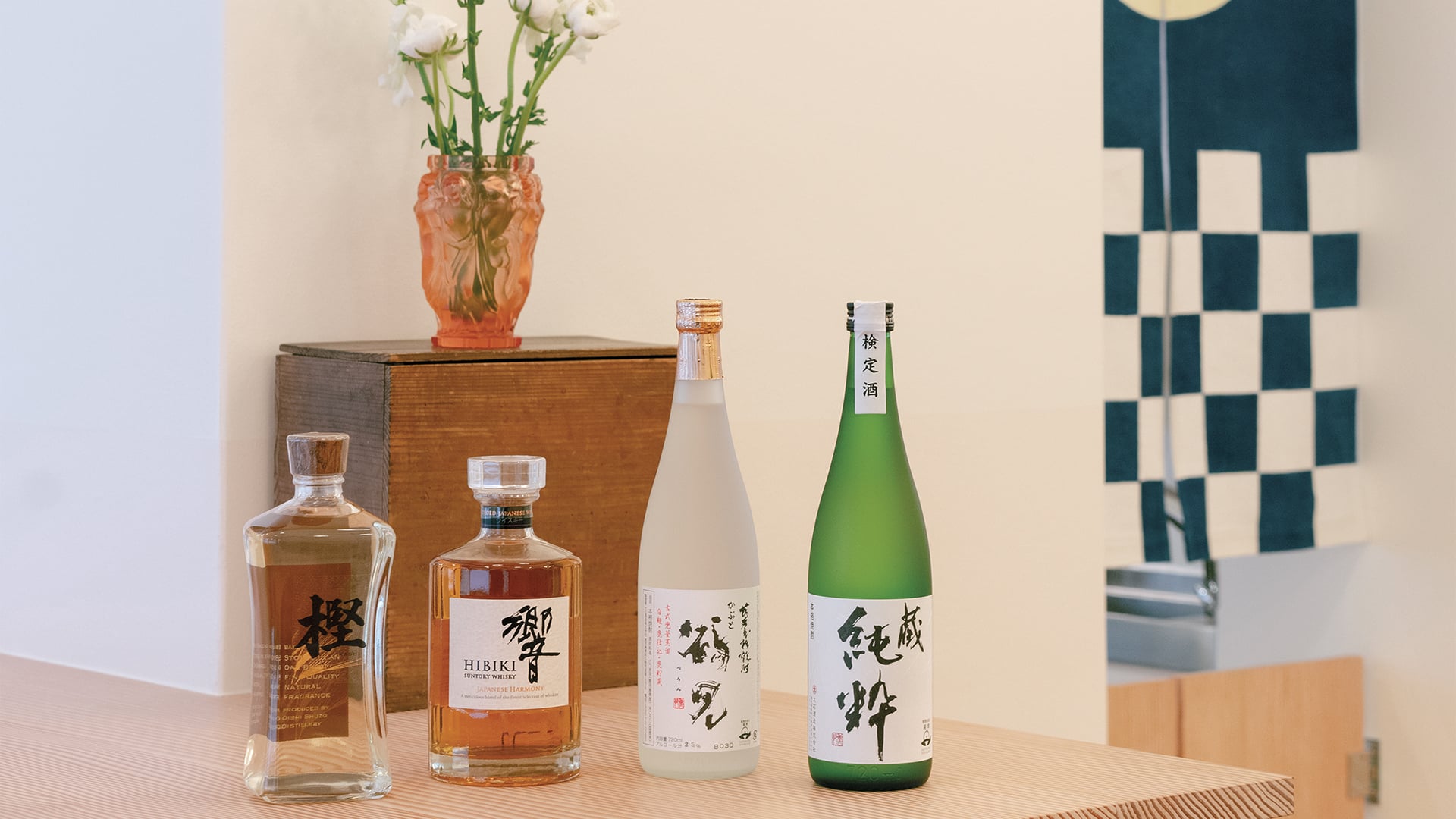 DRINKS
WINE

France, Spain, Italy...

Posh Jah offers a carefully selected wine list of small house producers of delicious natural and organic wines. We have chosen to source our wines from some of Copenhagen's best specialised wine importers within the field, and natural wine is a good match with the style of food served at Posh Jah. Red, white, sparkling or orange, we want our wines to reflect the attitude of the kitchen: clean, honest and delicious.

SAKE

Japan

Japanese izakayas and sake belong together. Sake is a sophisticated and very nuanced product with a delightful uplifting effect which, in contrast to most traditional wines, is perfectly complimentary to the subtle flavours of Japanese cuisine – especially izakaya.

Posh Jah offers a wide selection of sake - from high end Junmai to the unique, unfiltered "natural sakes".

If sake alone is not enough, our list also includes a fine selection of Shochu and Japanese whisky.

JAH-BEER

Bornholm

Posh Jah also loves beer, why we have developed a unique beer in collaboration with the magnificent Beer Here and Penyllan Brewery on the Danish island Bornholm.

Jah Beer is a light IPA with notes of fresh yuzu and Japanese hops that compliments the flavors of the food perfectly. Best served as draft beer in a frozen glass, or to take away by the bottle.
SAKE
Heiwa Shuzo

Junmai Ginjo, Wakayama. Entry-level ginjo sake. Fruity and elegant sake.

Chikumanishiki Shuzo

Junmai Ginjo Nama Genshu, Nagano. A very elegant yet full-bodied, fruity ginjo sake. Unpasteurised. A combination of sweetness and acidity results in a refreshing apple-like aroma and taste.

Terada Honke

Nama Genshu, Chiba. Original sake made exclusively for Jah by Terada Honke, our favourite sake maker <3 100% natural sake.

Uehara Shuzo Brewery

Junmai Ginjo Nama Genshu, Shiga. This is a nama genshu sake which still contains the finest part of the fermentation sediment resulting in a cloudy (nigori) colour and a very delicate rice fragrance.

Akishika Okarakuchi

gl 85 kr.

Akishika Shuzo Brewery

Junmai Ginjo Nama Genshu, Osaka. This Okarakuchi (literally 'big dry mouth') sake is one of the most dry sake. Akishika dry sake is rich and profound, full-bodied, with pronounced acidity.

Niida Shizenshu Ginjo

gl 85 kr.

Niida Honke Shuzo

Junmai Ginjo Nama-genshu Shizenshu, Fukushima. Organic and natural yeast. Fruity and good body.

Kirei Shuzo

Junmai Nama Genshu, Hiroshima. Full-bodiy dry and almost unpolished sake at a good price.

Akishika Yamahai 2014

gl 95 kr.

Akishika Shuzo

Junmai Nama Genshu, Osaka. Vintage sake from the Akishika shuzo. Enjoy the subtleness of a matured sake.

Nabeshima Ginjo

gl 95 kr.

Fukuchiyo Shuzo

Junmai Dai-Ginjo, Saga. An example of a perfect ginjo sake, with strong yet not overbearing fruity aroma and a light tasteful body. Slightly sweet with balancing acidity.

Terada Honke

Junmai Nama Genshu, Chiba. True 'liquid rice' in taste, colour and aroma. A very strong rice bran taste and acidity.

Asahi Shuzo

Junmai Daiginjo, Yamaguchi. Very good introduction to the world of aromatic daiginjo sake. Explosive fragrance and sweet palate. Beauty in a glass.
WINE
WHITE WINE
2021 Zwei Zimmer

gl 80 kr. / bt 350 kr.

Christopher Barth

Weissburgunder and Sauvignon, Rheinhessen.

2022 Riesling Blauschiefer

gl 90 kr. / bt 400 kr.

Weingut Stein

Riesling from Mosel, Germany.

2022 Chardog

gl 100 kr. / bt 500 kr.

Francois de Nicolay

Chardonnay from Languedoc made in Burgundy.

2022 L'Abeille et le Papillon

gl 120 kr. / bt 600 kr.

Jintaro Yura

Pinot Blanc from Alsace.

2020 Racines Blanc

bt 700 kr.

Etienne Courtois

Assemblage from Loire.

Antoine Petitprez

White Bourgogne.

2019 Petit Tetu (mgm)

gl 120 kr. / bt 1100 kr.

Jean-Marie Berrux

White Bourgogne.

2021 Eros (orange)

gl 90 kr. / bt 450 kr.

Les Vins Pirouettes

Riesling, Gewürtztraminer and Muscat from Alsace.

2020 Bianco Sensazione (orange)

gl 120 kr. / bt 600 kr.

Cascina Lieto

Moscato and Cortese from Piemonte.
RED WINE
2021 A Toi Nois

gl 80 kr. / bt 400 kr.

Andrea Calek

2021 Pedres Blanques Rouge

gl 120 kr. / bt 600 kr.

Pedres Blanques

Jean-Pierre Robinot

2019 Commentadore

bt 800 kr.

Domaine l'Octavin

2021 Savigny-lès-Beaune

bt 1000 kr.

Chantrêves

Domaine Petit-Roy
OTHER DRINKS
BEER
Jah Draft Beer (0,4l)

75 kr.

Our house beer. A fresh pale ale with japanese hops and yuzu. Brewed exclusively for Jah by Beer Here Brewery from Bornholm. Served ice cold.

Implosion by "to øl" (non-alc)

60 kr.

Low Motion Pink by "to øl" (non-alc)

65 kr.
COCKTAILS
Citrus, sherry and bitter.

Kombu tequila, mezcal, rice syrup and lemon.

Okinawa rum, shio koji, shizo and lime.
HIGHBALLS
Nikka whisky & soda.

Gin and tonic with a hint of shiso-herb.

Shochu and Soda.

Plum Shochu and Soda.
SHOCHU
Oishi Shuzo, Kagoshima

80 kr.

(ask staff for selection).
WHISKY (3cl)
Taketsuru Pure Malt – Nikka Whisky

3cl 75 kr.

Yoichi Single Malt – Nikka Whisky

3cl 95 kr.

Hibiki Japanese Harmony – Suntory Whisky

3cl 120 kr.
FRUIT SAKE
Tsuruume Yuzu-Sake – Heiwa Shuzo

gl 105 kr.

A sweet and fresh mix of Sake and the japanese citrus fruit Yuzu. Drink as an aperitif or with your desserts.

Suppai Umeshu – Heiwa Shuzo

gl 105 kr.

Japanese Plum Sake from WaKayama. Not too sweet and not too sour. Hints of almond and cherry.
NON ALCOHOL
Passing Clouds – Muri (wine)

gl 80 kr. / bt 400 kr.
OTHERS
Still or sparkling mineral water. Filtered on site. Per person, with free refills

A classic Japanese sparkling soft drink.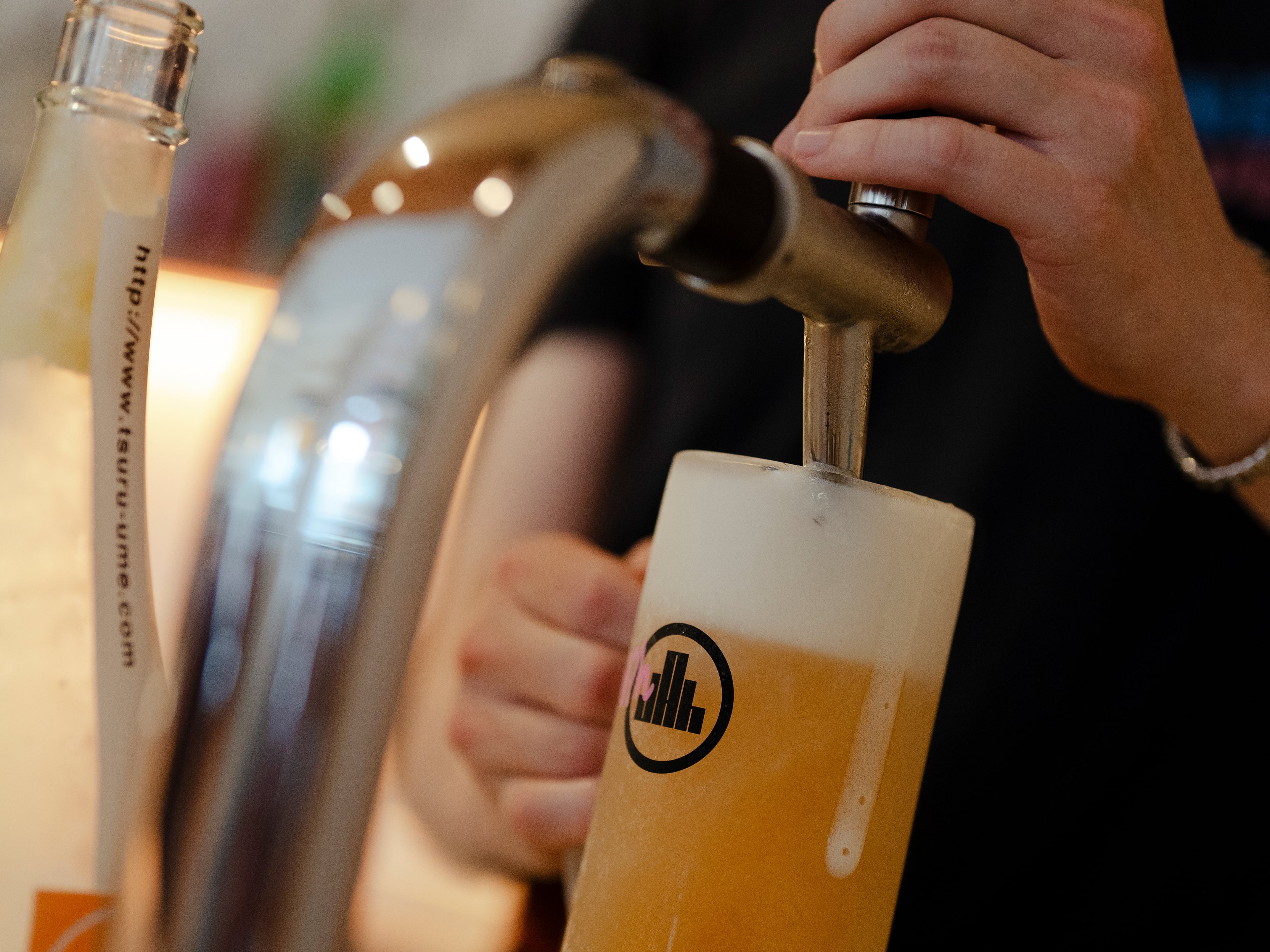 RESERVATIONS
LOCATION
LOCATION
Borgergade 17A
1300 Copenhagen K
OPENING HOURS
Tuesday — Saturday
17:30 — 24:00 (last food order 22.00)